Uninterruptible Power Supply with the The highest availability
CumulusPowerTM is comprised of modules with power of 10, 20, 25, 50 and 60 kW, which can be accommodated in single racks with total power ranging from 20KW to 600kW. In addition, the power Racks can be extended to 3,6 MW by horizontally paralleling up to 60 modules. The CumulusPowerTM range is designed to protect small and mid-sized Datacenters as well as other mission critical applications with a maximum power of up to 3,6 MW.
Availability to the Next Level 99.9999999% (9 nines)

The higher the Availability, the lower the downtime. By eliminating any single point of failure, adding active-redundant technology, preventing human error and reducing the time to maintain and repair, Cumuluspower™ delivers an industry leading Availability of 9 nines to fulfill the needs of the most critical power applications. CumuluspowerTM takes downtime from seconds, to the milliseconds level. Availability is formally defined as the MTBF/(MTBF+MTTR). Cumuluspower™ maximizes the Mean Time Between Failure (MTBF) while minimizes the Mean Time To Repair with a series of futures.

Triple-mode parallel bus

Multi frame connection is one of the advantages of horizontal scalability. Communication between frames and modules is critical, nevertheless for some architectures it is still a single point of failure. CumuluspowerTM parallel communication is provided with a unique triple-mode parallel bus, that consists of three independent communication lines and three independent electronic circuits. Disconnection or short-circuit on any of the lines does not represent a risk for the system thus eliminating the single point of failure.

Full Bypass redundancy

Some UPS architectures still use centralized critical components like a Single Bypass Architecture (SBA). Centralized components in a parallel system represent single points of failure. Unlike the centralized architectures, Centiel's modular UPS, CumulusPowerTM, is equipped with a Distributed Bypass Architecture (DBA), that brings full redundancy even in the bypass line, avoiding any system' single point of failure.
Minimized MTTR

Parallel system availability increases with the reduction of the Mean Time To Repair (MTTR). In-frame per-module bypass fuses minimize the time it takes to reestablish a system in an event of output short-circuit.

Safe Smart Battery Test

CumulusPowerTM battery tests are programmable and safe. Smart Battery Booster architecture, allows the UPS to perform battery monitoring, tests and health status diagnosis without the need for mains disconnection.

Hot-Swappable with Minimized Human Error

CumuluspowerTM modules can be swapped without the need to switch over the load to bypass. Besides that, a per-module parallel isolator fiscally isolates the module from the system minimizing human error and increasing Availability.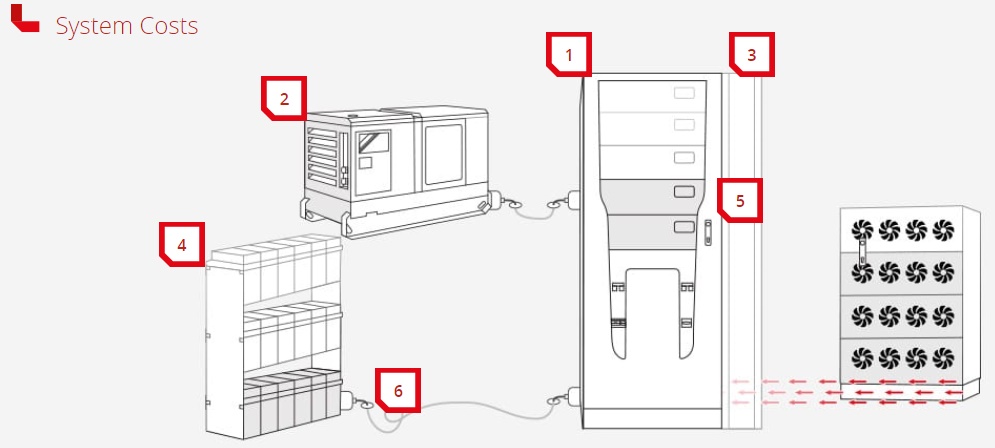 Flexibility: Same core technology different solutions
CumulusPowerTM fits on a 19" (IM10/20) to provide the maximum flexibility to the final application. Centiel's flexible solution approach can customize a frame solution to satisfy specific needs.

Maximum Efficiency Management (MEM)

Use energy only when it is needed. CumulusPowerTM product line implements an intelligent MEM, that uses as many modules as necessary to match the load demand. MEM looks for the most optimized energy efficiency point, if load demand decreases and a lower number of modules can handle the load while maintaining redundancy, the superfluous modules enter into active-sleep mode to optimize overall energy consumption. Active-sleep modules are ready to instantly take any load shall it increase.

Reduce your energy bill

High efficiency means less heat dissipation, thus, less energy wasted. CumulusPowerTM lets you reduced your energy consumption on power protection and cooling system.

Minimized life-time maintenance cost

Maintenance is an important factor to increase availability. CumulusPowerTM product line was designed to reduce the number of components that need replacement while at the same time reduce the time and cost of such maintenance operations.
Easy replaceable plug and play components

Due to technology reasons, AC capacitors need a periodic replacement. This preventive maintenance is important to guaranty availability. Centiel has designed an easy to maintain mechanism that simplifies the process while reducing the total cost of the operation.

Reduction costs on DC capacitors maintenance

DC capacitors are normally replaced every 5 to 6 years. CumulusPowerTM's DC bus is designed to make DC capacitors last for a minimum of 10 years without the need of replacement*. Thus minimizing the total life-time cost.* Module IM10/20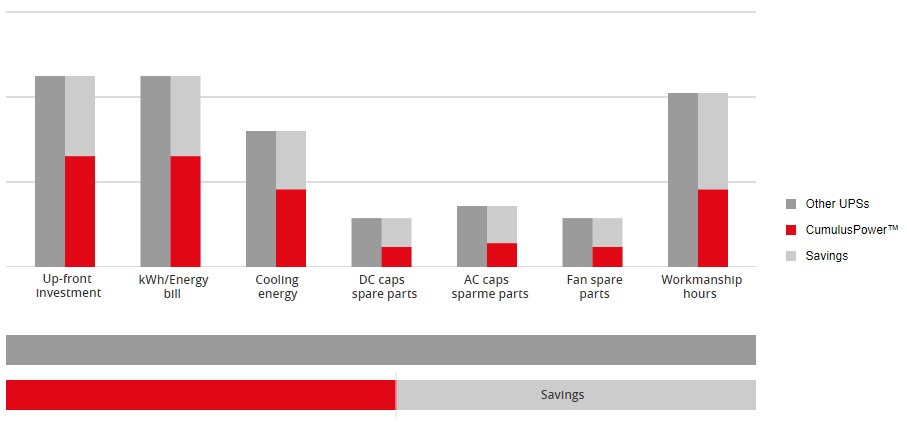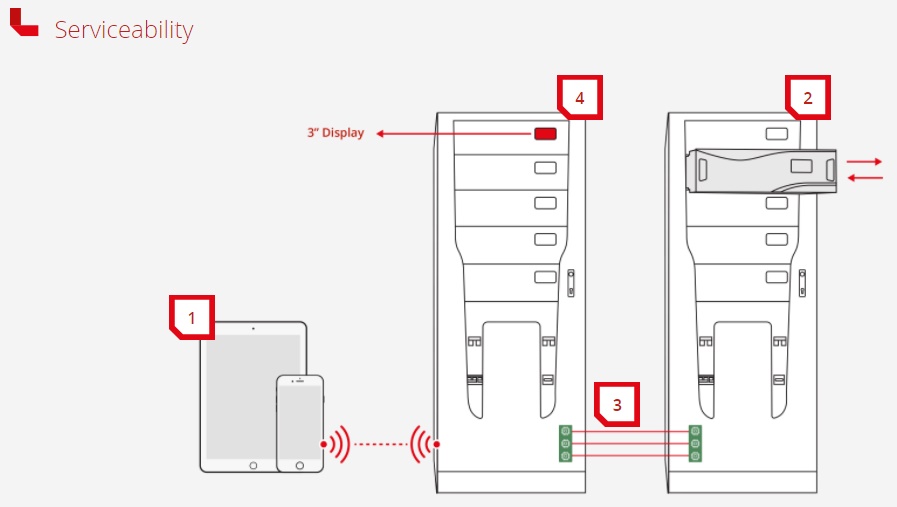 Continuous Power Availability

Thanks to our extensive failure analysis research and insights gathered from 25 years of field experience working with a large number of data centers and other critical environments, our power protection solutions have reached the highest levels of availability to reduce downtime risk, avoid costly errors, and increase energy efficiency. To respond to highest availability requirements i.e. to eliminate risks that may cause computer downtime of business-critical applications, CENTIEL has developed a new series of modular fault-tolerant 3phase UPS-systems called CumuluspowerTM (CP).

Unlike traditional centralized parallel multi-module systems, the advanced Cumuluspower technology combines a unique Intelligent Module Technology (IMT), with a fault-tolerant parallel architecture, called Distributed Active-Redundant Architecture (DARA), thereby fulfilling the highest availability and reliability requirements.

Distributed Active-Redundant Architecture (DARA)

The Distributed Active-Redundant Architecture of the multi-module UPS-system CumuluspowerTM was designed to respond to the highest availability requirements. This is achieved with the implementation of the "democratic" majority load trans fer decision-making in an event of a critical failure, and a correct management of the load sharing to avoid crosscurrents between the modules. The communication between the logic circuits of the modules is accomplished by means of a redundant communication BUS. In an event of a critical failure, every module will make a decision, by means of its logic circuit, whether the load should remain on the inverter or be transferred to the bypass.

The load transfer will be conducted depending on the decision made by the majority of the modules. In order to avoid crosscurrents between the modules, a master-slave load sharing technique is adopted. The first module is designated to be the master, which provides the load value to be shared by the rest of the modules (slaves). If the master experiences a failure, the next module will automatically become the leading master.

Intelligent Module Technology (IMT)

Thanks to our long experience in module-design, the CumuluspowerTM modules are equipped with all hardware (power circuits) and all software (intelligence and monitoring) functions, which make them fully independent and capable of safely isolating themselves from the multi-module system whenever an internal fault occurs.

The rest of the multi-module system will continue to provide protected power to the critical load without interruptions. The integration of all hardware and software in each module allowed us to eliminate all the risky single points of failure that would compromise the entire system and the power to the critical data center.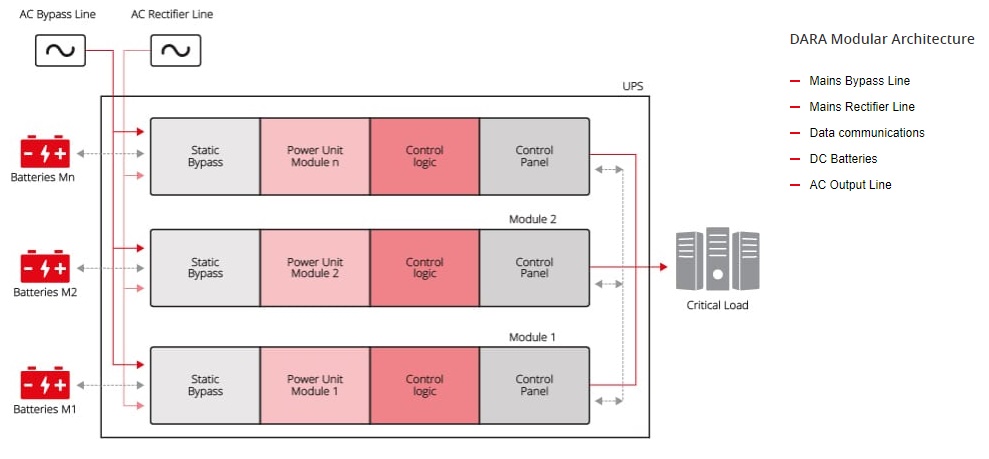 Unity Power Factor
(kVA = kW)

PremiumTower ™ provides unity power factor which avoids the need for system over size to support today's power factor corrected loads.

High Efficiency
96.6% (VFI)

With a best in class efficiency of 96.6% in double conversion mode (VFI), PremiumTower ™ provides the lowest Total Cost of Ownership.

High Battery
Charging current

With the ability to provide up to 5 times more charging current than typical standalone ups, PremiumTower ™ reduces the total system cost by eliminating the need for external battery chargers.

Outstanding
Overload Capability

With a 124% continuous operation in overload condition, mission critical applications can be safe on the event of unexpected load demands.

Ultra-Safe
Eco mode

With a 99.4% efficiency in Eco mode operation and an ultra fast reaction time of <1.9 ms, Ultra-Safe Eco mode enables an excellent trade-off between power quality and energy efficiency.

Exceptional Short
Circuit Capability

With a Short Circuit Capability of 3 times nominal current (3 x In), PremiumTower ™ is able to clear output circuit protection in milliseconds.
Products
Centiel's product line CumulusPowerTM is the latest
generation of fault-tolerant modular UPS solutions.
CumulusPowerTM intelligent modules can be connected in
parallel configurations to provide redundancy or to
increase the system's total capacity. The CumulusPowerTM
comes in three module sizes IM10 (10kW) , IM20 (20kW)
and IM50 (50kW). The IM10 and IM20 modules are of the
same physical size and can be fitted in four different
Racks CP40-IB, CP-80-IB, CP120-EB and CP200EB
(IB=Internal Battery and EB=External Battery), whereas
the module IM50 can be fitted in a CP250-EB Rack.
In addition up to 6 x Racks CP250-EB can operate in
parallel configuration to build a system with a maximum
power of 1.5 MVA.