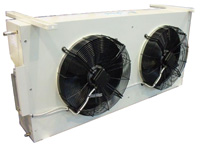 CR – CRS – CRU Kc Series
REMOTE AIR CONDENSERS FOR R410A
VERSION WITH AXIAL FANS
Packaged air condensers with axial fans for external installation, especially designed to satisfy many refrigeration and air conditioning applications, so to reduce the overall noise level.
On request, the remote condensers can be provided with a condensing pressure control (option RG), by means of an actuated pressure fan speed controller, providing speed variation with a reduced full load current and allowing their operation down to -20°C. For lower temperatures down to -40°C, it is necessary to select option BW.
Operation limits: external air temperature from -20 to 42°C.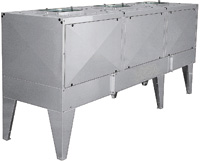 CRC Kc Series
REMOTE AIR CONDENSERS
VERSION WITH CENTRIFUGAL FANS
Packaged air condensers with centrifugal fans for internal installation, especially designed for a wide range of applications both in refrigeration and air conditioning, where you need to reduce the overall sound level.
All sizes have been designed for ducted installations for a max available pressure of 150 Pa.
In the case the condenser will not be ducted, it is necessary to fit a protection grid on the air discharge, in compliance with the local regulations in force.
Operation limits: external air temperature from 15 to 42°C