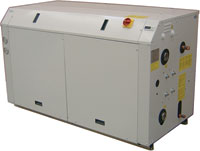 MEE Ka – Kc Series
Cooling capacity from 5 to 81 kW – 1 refrigerant circuit
EVAPORATING UNITS WITH HOUSING
AND SCROLL COMPRESSORS
REFRIGERANT R134A – R410A
The evaporating units of MEE Ka/ MEE Kc series, to be matched to remote condensers, are designed for indoor installation and are particularly suitable for small and medium sized air conditioning systems, in residential and commercial applications. For this reason, they are made of a housing in painted steel plate.
They are all available with 1 refrigerant circuit.
Thanks to their compact dimensions and to the several options available, these units are particularly easy to install in small spaces.
They are completely assembled and tested in the factory and supplied with nitrogen and oil charge.
Water operation limits (standard units):
EVAPORATOR (OUT): from 5 to 15°C