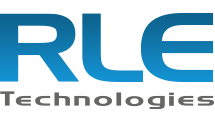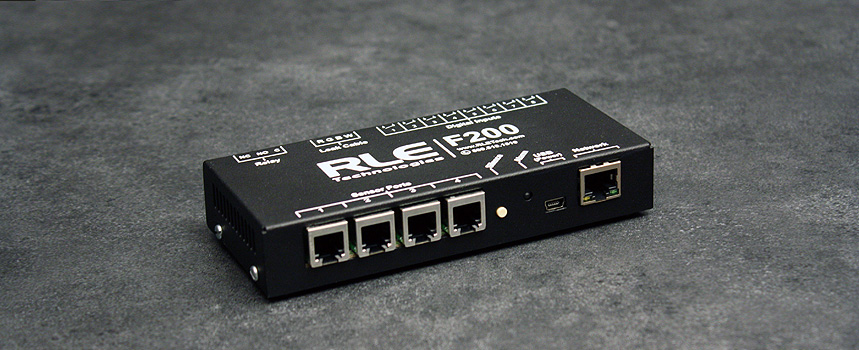 RLE F200
This innovative NEW  product couples leak detection and facility monitoring in one plug-and-play package.
Designed to be simple, effective, and efficient, RLE Technologies' F200 monitors environmental parameters and protects facilities from disastrous consequences.
4 Sensor Inputs – You choose whether you'd like to deploy temperature sensors, temperature/humidity sensors, or a combination of the two.
8 Digital Inputs – Unlimited monitoring possibilities. Monitor something as simple as whether a door is opened or closed, or monitor more complex parameters including motion sensors, fire alarms, gas detectors, airflow sensors, and summary alarms from critical equipment including UPSs and generators.
1 Relay Output – Use the F200's relay output to control an external device in the event of an alarm condition.
1 Zone Leak Detection – the F200 can supervise an SD‑Z1 spot detector or up to 200 feet of our patented leak detection sensing cable and inline SD‑Z spot detectors.
Plug-and-Play – Once all your monitoring connections are snapped into place, the F200 does the rest. Information is displayed on the F200's sleek, integrated web interface. Intuitive options and menuing keep configuration quick and easy, and the interface can be accessed from any computer or mobile device.
Technical Specifications
Key Features
Simple plug-and-play installation and setup
Web-accessible with a clean, easy to use, mobile-friendly web interface
Monitors eight dry contact inputs and four temperature or temperature/humidity sensors, plus one zone of leak detection
Single zone leak detection supports up to 200' of leak detection sensing cable and/or spot detectors
USB power – run the F200 from a wall outlet via included adapter or a USB port on a server or other computer
Multiple alarm notification configurations including audible and visible indicators, integrated web interface, email messaging, and SNMP traps
Relay output allows for simple control of an external device upon alarm condition
Modbus output enables simple integration to a Building Management System (BMS)
Integrated logging and trending – trending data available as a downloadable CSV file
Included Equipment: F200 controller, network cable, USB cable –  USB mini B to USB A, 5V USB wall wart
Additional Requirements: Digital temperature sensors, digital temperature/humidity sensors, leak detection leader cable, leak detection sensing cable, end-of-line terminator, rack mount kit (as needed for application)
Power: (US) 5VDC @ 500mA max; 110/240VAC 50/60Hz; wall adapter to USB connector (included)
Wired Inputs
Temperature/Humidity: 4 digital temperature or digital temperature/humidity sensor inputs; RJ11 connectors; plug-and-play; configurable alarm points
Digital (Dry Contact): 8 digital alarm points; configurable
Sensing Cable: One zone leak detection, compatible with all SeaHawk sensing cables and SD-Z and SD-Z1 spot detectors

Cable Input: Requires 15ft (4.6m) leader cable and EOL terminator (not included), or wire one SD-Z1 directly to the F200
Maximum Sensing Cable Length: 200ft (61m) of conductive fluid sensing cable, or 140ft (43m) of chemical sensing cable
Relay Output: 1 Form C summary relay; 2A @ 30VDC, 0.5A @ 125VAC.  Configurable as summary alarm or manual operation.
Alarm Notification
Panel: Audible alarm, visible LED
Integrated Web Interface: Dashboard overview with alarm indicators
Email: 1 email recipient; email sent on alarm to single recipient, distribution list, or email-to-SMS
SNMP Traps: Multiple community strings
Relay: 1 Form C summary relay output
Web Interface Login Security: 1 password read only; 1 password read/write
Communication Port
Ethernet: 10/100 BaseT, RJ45 connector; 500 VAC RMS isolation; DHCP enabled; Static IP-addressable
Protocols
TCP/IP: ARP; DNS; UDP; DHCP; ICMP
HTML: Supports multiple simultaneous connections
SMTP (email): SMTP authentication; SMTP relay; supports SSL; up to 8 recipients
Modbus TCP/IP: Modbus slave; TCP/IP transmission protocol
SNMP: V1; V2C MIB-2 compliant; NMS Manageable with Get and Traps: V2C Get, V2C and V1 Traps
NTP: Custom server settings
Logging: Logs 50 most recent alarm and return to normal events with date/time stamp.
Trending: Records up to 86,400 points of sensor data.  Sample interval set from 1 second to 1 day.  CSV downloadable.
Operating Environment
Temperature: -40° to 185°F (-40° to 85°C)
Humidity: 0% to 100% RH, non-condensing
Altitude: 15,000ft (4,572m) max.
Storage Environment: -40° to 185°F (-40° to 85°C)
Dimensions: 5.63″W x 1.0″H x 2.63″D (143mmW x 25mmH x 67mmD)
Weight: 10.1 oz. (287g)
Mounting: Stand alone; keyholes included for wall mount; rack mount bracket available
Certifications: CE; ETL listed: conforms to UL 61010-1, EN 61010-1; certified to CSA C22.2 NO. 61010-1; RoHS compliant