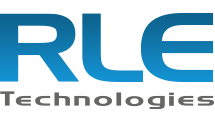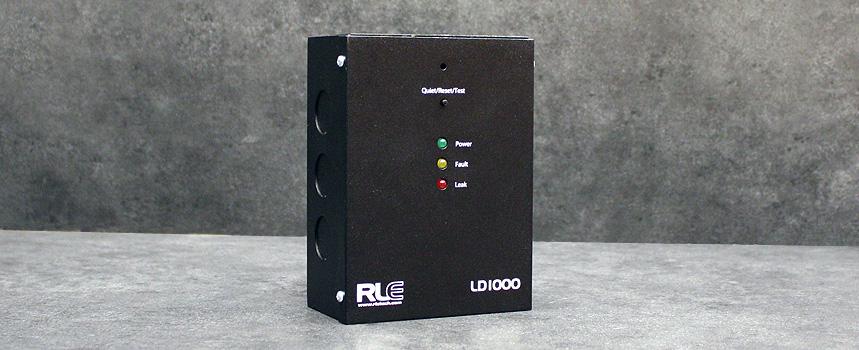 RLE LD1000
The SeaHawk LD1000 single zone leak and water detection controller monitors up to 1,000 feet (305 meters) of sensing cable.  It is compatible with all SeaHawk sensing cables and SeaHawk SD-Z and SD-Z1 spot detectors.
As a stand-alone leak detection controller, the LD1000 features an audible alarm and three LED indicators.  The LD1000 can also integrate into existing monitoring systems.  It is ideal for small areas, facilities where the sensing cable or spot detector is exposed or leaks can be easily located, and areas where the audible/visible alarm can be easily noticed.
Note: The LD1000 requires an isolated 24 volt power supply. RLE recommends and stocks PSWA-DC-24, a 24VDC supply that plugs directly into a wall outlet. This supply is available for purchase separately.
Technical Specifications
Key Features
Monitors:

up to 1,000 feet (305 meters) of conductive fluid sensing cable and/or spot detectors, or
up to 700 feet (213 meters) of chemical sensing cable

Three LED indicators: Power, Leak, Fault
Selectable audible alarm annunciation
Configurable for supervised or non-supervised operation
Adjustable sensitivity settings
Wall mount enclosure
Two Form C output relays for leak and fault alarms
Included Equipment: LD1000 controller, leader cable, end-of-line (EOL) terminator
Additional Requirements: Power supply, sensing cable and spot detector (as needed for application)
Power: 24VAC/VDC (±10%) @ 300mA max.; requires power supply: PSWA-DC-24-ST (not included)
Inputs
Leak Detection Cable: Compatible with SeaHawk sensing cables (not included)
Cable Input: Requires 15ft (4.6m) leader cable and EOL terminator (included)
Maximum Sensing Cable Length: 1,000 feet (305m) of conductive fluid sensing cable, or 700 feet (213m) of chemical sensing cable or hydrocarbon sensing cable
Detection Response Time: Configurable for 10sec or 2min, ±10%, when used with conductive fluid or chemical sensing cables.
Outputs: 1 Form C Leak Relay, 1 Form C Cable Fault Relay, configurable to 2 Summary Alarm Relays; 1A @ 24VDC, 0.5A resistive @ 120VAC; configurable for supervised or non-supervised, latched or non-latched
Alarm Notification: Audible Alarm 85DBA @ 2ft (0.6m); Selectable
Front Panel Interface
LED Indicators: Power: 1 green (on/off); Cable Fault: 1 amber; Leak Detected: 1 red
Push Buttons: 1: Quiet,Reset, Test
Operating Environment
Temperature: 32° to 122°F (0° to 50°C)
Humidity: 5% to 95% RH, non-condensing
Altitude: 15,000ft (4,572m) max.
Storage Environment: -4° to 158°F (-20° to 70°C)
Dimensions: 4.125″W x 5.5″H x 2.25″D (105mmW x 140mmH x 58mmD)
Weight: 27.0 oz. (765g)
Mounting: Wall mount
Certifications: CE; ETL listed: conforms to UL 61010-1, EN 61010, CSA C22.2 No. 61010-1, IEC 61326:1997; RoHS compliant