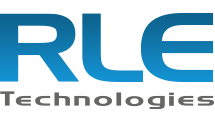 RLE LD5200
Protecting a facility from damaging leaks is an important part of any disaster mitigation plan.  The  LD5200 pairs superior leak detection technology with an easy-to-use interface.  This integration helps users quickly and efficiently establish a distance-read leak detection system that reliably protects valuable assets.
The LD5200 was designed with the end-user in mind.  A replacement for the recently retired LD5100, all basic device functionality is available from the LCD touch screen – configure, monitor, locate, and acknowledge leaks from the front panel of the LD5200.  The LD5200 can be used as a stand-alone device without sacrificing any leak detection or alarm notification functionality.
Once the LD5200 is connected to a network, a robust web interface expands the capabilities of the unit.  Use the web interface's interactive facility mapping tool to create an interactive overlay that displays on top of an uploaded floor map image.  When a leak is detected, the LD5200 displays its location on the map, making leak location quick and easy.
While the LD5200 can function as a stand-alone device, it also has powerful integration capabilities.  Multiple communications ports allow the LD5200 to act as a master for a wide variety of related slave devices.  The highly scalable LD5200 can provide leak detection and notification for an entire building through one IP address.  It can also seamlessly integrate into a BMS or NMS.  The LD5200 is ideal for applications that require a stand-alone system that can also be integrated into a larger centralized monitoring system.
Technical Specifications
Key Features
Monitor up to 10,000 feet of conductive fluid sensing cable or 7,000 feet of chemical sensing cable
Stand-alone or integrated leak detection and notification
Annunciate multiple, simultaneous leaks when other RLE distance-read controllers are integrated into the system
Pinpoint leaks quickly and accurately
Act as a master device for up to 127 RLE leak detection controllers – manage an entire building's leak detection through one IP address
Configure up to 32 virtual zones
Send direct email alarm notification
Access the device remotely via the robust web interface – any time, any place
Create up to 10 interactive leak detection reference maps
Log an extensive variety of events and alarms
Detailed alarm history with time and date stamp assists in troubleshooting
Included Equipment: LD5200 controller with power supply, leader cable, end-of-line (EOL) terminator
Additional Requirements: Sensing cable (as needed for application)
Power: 100-240VAC@ 500mA max, 50/60Hz power supply; dedicated circuit required
Sensing Cable Input – Compatible with all SeaHawk sensing cables (not included)
Cable Input: Requires 15ft (4.6m) leader cable and EOL (included)
Maximum Sensing Cable Length: 10,000ft (3,048m) of conductive fluid sensing cable, or 7,000ft (2,134m) of chemical sensing cable
Minimum Sensing Cable Length: 35ft (11m)
Detection Accuracy: ± 2ft (0.6m) +/- 0.5% of the cable length
Detection Repeatability: ± 2ft (0.6m) +/- 0.25% of the cable length
Detection Response Time: 5-990 seconds, software adjustable in 5 second increments; ±2 seconds
Outputs
Analog: 4-20mA Loop Powered, 18-36VDC, RL = 500 Ohm max.
Relay: 1 DPDT Leak Relay, 1 DPDT Cable Break Relay (allows each alarm to be sent to two places); 1A @ 24VDC, 0.5A resistive @ 120VAC; configurable for supervised or non-supervised, latched or non-latched
Maintenance Relay: 1A @ 24VDC, 0.5A resistive @ 120VAC; configurable for supervised or non-supervised, latched or non-latched
Communication Ports
EIA-485 (Port 1, Port 2, Port 3): 9600, 19200, or 38400  baud (selectable); No parity, 8 data bits, 1 stop bit
EIA-232: 9600 baud; No parity, 8 data bits, 1 stop bit
RJ-45: 10/100BaseT Ethernet port (TCP/IP)
Protocols
EIA-485: Modbus RTU Master & Slave; BACnet MS/TP; N2, Slave
EIA-232: Terminal emulation, VT100 compatible
RJ-45: Ethernet: TCP/IP; Modbus/TCP/UDP, Master & Slave; SNMP V1, V2, V3, NTP, SMTP, DNS; BACnet/IP
Alarm Notification
Audible Alarm: 85DBA @ 2ft (0.6m); re-sound 0-999min
Visible Alarm: Alarm indicated on LCD touch screen and through web interface
Logging Capabilities – Logs are downloadable to .txt file
Alarm History/Event Log: Last 1,024 events
Trend Log: Cable current level once per day, for the last 365 days
Login Security
LCD Touch Screen: No password required to view controller status and data.  Administrator password limits access to configuration options.
Web Interface:  Username and password can be configured.
Front Panel Interface
Display: 480 x 272 pixel color backlit LCD touch screen; 95.04mm x 53.85mm
Operating Environment
Temperature: 32° to 122°F (0° to 50°C)
Humidity: 5% to 95% RH, non-condensing
Altitude: 15,000ft (4,572m) max.
Storage Environment: -4° to 158°F (-20° to 70°C)
Dimensions: 12.5″W x 10″H x 3.25″D (318mmW x 254mmH x 83mmD)
Weight: 8.2 lbs. (3.7kg)
Mounting: Wall mount Type 1 enclosure
Certifications: CE; ETL listed: conforms to UL 61010-1, EN 61010, CSA C22.2 No. 61010-1, IEC 61326:1997; RoHS compliant