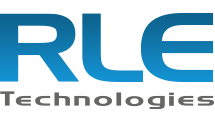 RLE LDRA6
The LDRA6 accommodates six inputs that can be configured for zone water detection or as remote alarm annunciators.  An LDRA6 can monitor for both leaks & alarms generated by networked equipment.
As a zone leak detection solution, the LDRA6 is compatible with SeaHawk sensing cables and SeaHawk SD-Z & SD-Z1 spot detectors.  This allows the LDRA6 to detect the presence of water, conductive fluids, and chemicals.  When a leak is detected, the LDRA6 annunciates an alarm for the corresponding zone.
Each of the LDRA6's six zones can accommodate up to 1,000 feet (305m) of sensing cable or one or more spot detectors.  One leader cable is required for EACH ZONE of leak detection.
As a remote alarm status panel, each of the inputs can be configured to relay and annunciate alarms from equipment and sensors that provide a digital dry contact signal.  Common inputs to the LDRA6 include HVAC units, power distribution devices (PDU), uninterruptible power supplies (UPS), and generator summary/alarm contacts.
In addition to a panel summary relay output, each input has a unique relay output.
The LDRA6's Modbus capabilities allow it to communicate with other Modbus-compatible devices.
Note: The LDRA6 requires an isolated 24 volt power supply. RLE recommends and stocks PSWA-DC-24, a 24VDC supply that plugs directly into a wall outlet. This supply is available for purchase separately.
Technical Specifications
Key Features
Monitor:

up to 1000 feet (305 meters) of conductive fluid sensing cable and/or spot detectors per zone; 6000 feet (1830 meters) total, or
up to 700 feet (213 meters) of chemical sensing cable per zone; 4200 feet (1280 meters) total

The LDRA6 fully integrates with RLE's family of leak detection cables.  One controller can monitor an area for both water and chemical leaks with our distinct leak detection cables.
Create a unique combination of zone leak detection and dry contact alarm annunication
Adjustable leak thresholds fine-tune the system
Supervised inputs monitor cable for breaks and contamination
Form C relay output for each input enables communication with BMS/NMS/BAS via Modbus RTU (EIA-485)
One tri-color notification LED per input, and one audible alarm
Included Equipment: LDRA6 alarm panel
Additional Requirements: Power supply, leader cable, end-of-line (EOL) terminator, sensing cable (as needed for application)
Power: 24VDC@ 600mA max.; requires power supply: PSWA-DC-24 (not included)
Inputs
Leak Detection Cable: Compatible with SeaHawk sensing cable and SD-Z and SD-Z1 spot detectors (not included)
Cable Input: Requires 15ft (4.6m) leader cable and EOL terminator for each zone (not included)
Maximum Length: 1000 feet (305m) of conductive fluid sensing cable and/or spot detectors per zone; 6000 feet (1830m) total, or 700 feet (213m) of chemical sensing cable per zone; 4200 feet (1280m) total
Detection Response Time Digital:  When used with conductive fluid sensing cable or chemical sensing cable, 20-3600sec, software adjustable in 10 second increments; ±2sec Dry Contact NO/NC.
Outputs
Relay: 1 Form C Summary Alarm Relay, 6 Form C alarms, one per input/zone 1A @ 24VDC, 0.5A resistive @ 120VAC; Configurable for supervised or non-supervised, latched or non-latched
Communication Ports
EIA-232: 9600 baud; Parity none; 8 data bits, 1 stop bit
EIA-485: 1200, 2400, 9600 or 19,200 baud; Parity none, odd, even (programmable); 8 data bits, 1 stop bit
Protocols
Terminal Emulation (EIA-232): VT100 compatible
Modbus (EIA-485): Slave; RTU Mode; Supports function codes 03, 04, 06, and 16
Alarm Notification
Audible Alarm: 85DBA @ 2ft (0.6m); re-sound (disabled, 8,16 or 24 hours)
Visible Alarm: LED: Alarm: red; Cable Fault: yellow
Front Panel Interface
LED Indicators: Power: 1 green (on/off); 1 tri-color Status LED per zone (6 total) (Power On: green; Alarm: red; Cable Fault: yellow)
Push Buttons: Quiet/Test/Reset: 1
Operating Environment
Temperature: 32° to 122°F (0° to 50°C)
Humidity: 5% to 95% RH, non-condensing
Altitude: 15,000ft (4572m) max.
Storage Environment: -4° to 158°F (-20° to 70°C)
Dimensions: 10.5″W x 8.0″H x 2.0″D (267mmW x 203mmH x 51mmD)
Weight: 4 lbs. (1.82kg)
Mounting: Wall mount enclosure
Certifications: CE; ETL listed: conforms to UL 61010-1, EN 61010, CSA C22.2 No. 61010-1, IEC 61326:1997; RoHS compliant